Strategic alliance for improved market access
AUTOFLUG and East/West Industries conclude agreement on closer cooperation.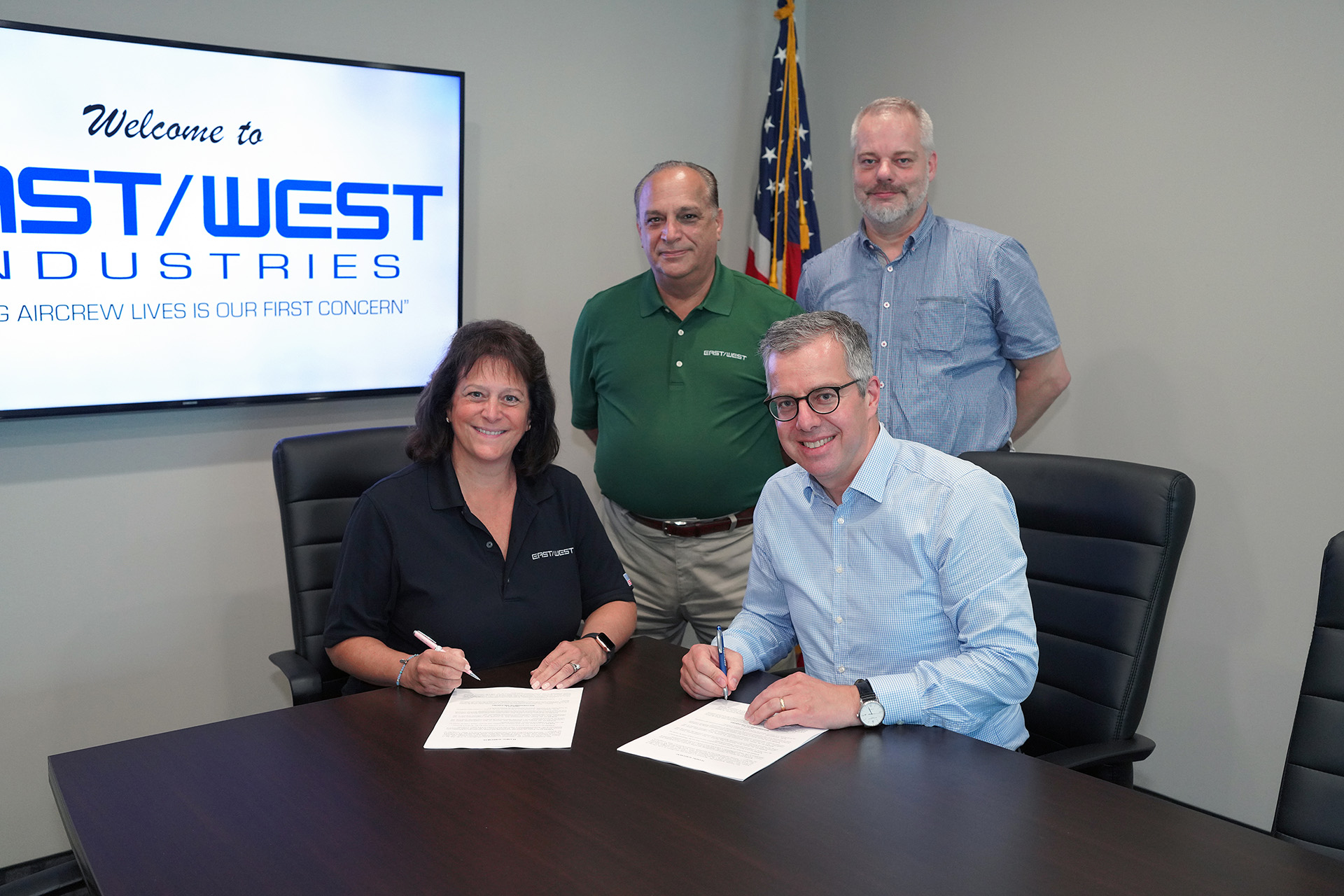 Starting point for a close cooperation with the initial contract signing between AUTOFLUG and East/West Industries, Inc. in New York, USA
Teresa Ferraro, President at East/West Industries, Inc., Joe Spinosa Vice President of Business Development, Martin Kroell, Managing Partner at AUTOFLUG, Matthias Gerhard, Senior Vice President of Engineering (from left to right)
New York, August 25, 2021
– AUTOFLUG GmbH a German Company, and the American company East/West Industries Inc. an American Company have signaled the start of close cooperation by signing a teaming agreement. The focus of the agreement is mutual support in marketing their partner's range of products in their own domestic market.
AUTOFLUG GmbH is very well networked in the European market for safety products for civil and military aviation. "The range of products available from East/West Industries is an excellent addition to our sophisticated solutions that we are already successfully making available for a wide variety of programs," revealed Martin Kroell, managing partner at AUTOFLUG, following the signing of the agreement last Wednesday. "Strategically, it is hugely beneficial for us to be able to operate with East/West on our side. In addition to the expansion of our range of products, we can now also push ahead with better market penetration in the USA," continued Kroell. There was a special focus on AUTOFLUG FLYWEIGHT® seating systems for civil helicopters while preparing the agreement. "The slim, lightweight design combined with the convincing performance data fits very well with our philosophy of protecting air crews being our top priority," explained Teresa Ferraro, president at East/West Industries. "The seats are a perfect addition to our own crashworthy seat designs for helicopter seats and enable us to meet our customers needs with our planned variants," continued Ferraro. In addition to the already approved base configurations, there will be derivatives from the FLYWEIGHT® range of seats with foldable seating (FLYWEIGHT® UP) as well as the swiveling version (FLYWEIGHT® SPIN). According to Ferraro, there are already identifiable potential markets waiting for such solutions, especially for equipping smaller cabins. All these seating variants are also suitable for use in aircraft in the urban air mobility sector and are, therefore, of particular interest for this section of the market. Accordingly, part of the agreement concluded between the companies is a license agreement for marketing crashworthy seats in the USA while retaining the brand name FLYWEIGHT®. The European market can be supported more easily and efficiently via a German partner than has been possible up to this point, said Ferraro in response to a question. "The fact that both companies have made the protection of people their core mission is a unifying element and the foundation for a trusting collaboration in the coming years, which we are both very much looking forward to," the two partners said in a statement.