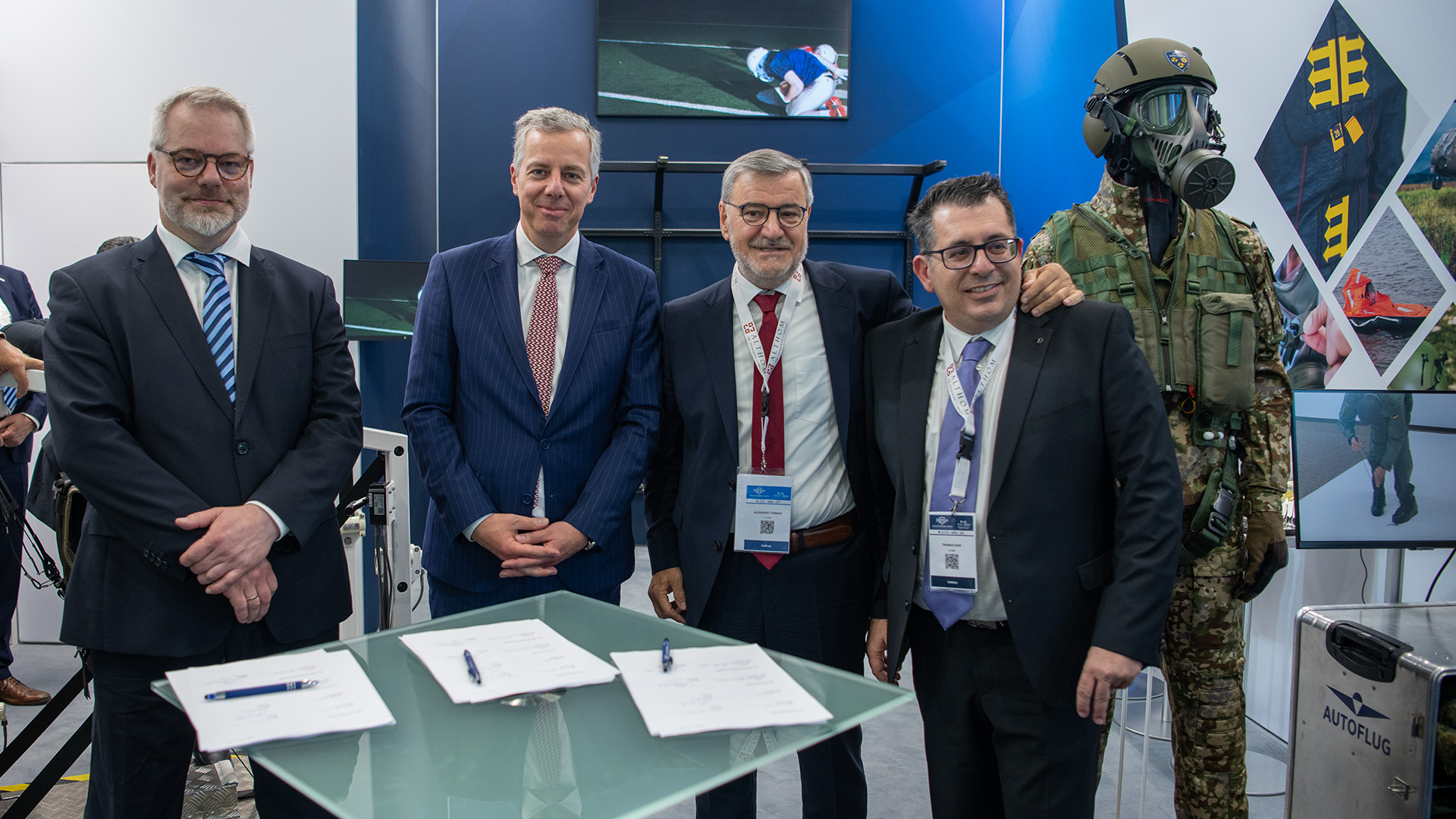 Matthias Gerhard, Martin Kroell, Alkiviadis Thomas, Thomas Dais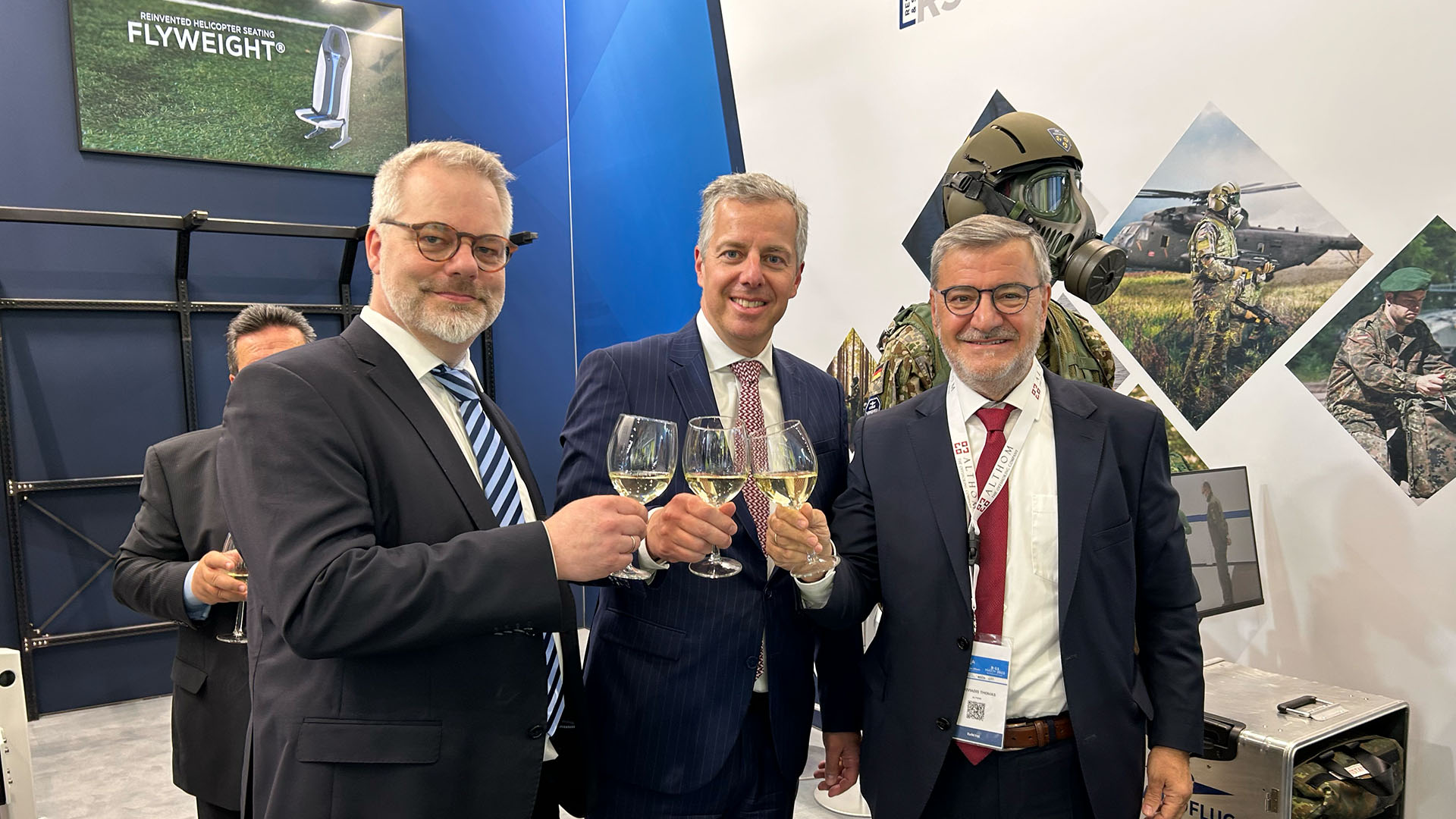 Matthias Gerhard, Martin Kroell, Alkiviadis Thomas
DEFEA, Athens, 10. May 2023 – With today's signing of a comprehensive cooperation agreement, the German-based company AUTOFLUG GmbH and the German and Greek-based companies ALTHOM GmbH and ALTHOM Engineering E.P.E. have agreed on a long-term collaboration in the field of safety seat design and development as well as the creation of technical documentation.
This cooperation agreement marks the next step in a collaboration between the contractual partners that has already existed since 2019. Whereas the projects have so far been worked on primarily in Hamburg, Germany, there will now be another competence center in Patras, Greece, where development teams will devote themselves to the design of safety seating systems for helicopters and, in particular, to the rapidly growing urban air mobility market. The range of services is rounded off by the technical documentation, which can be produced according to international standards such as S1000D.
Another aim of the agreement is the joint application and subsequent processing of European research projects. The focus is on the research and development of additional safety features and the innovative integration of such solutions into the next generation of safety seats.
"Our goal is to build a long-term partnership, as well as to expand and improve the services and products offered by both companies by combining their strengths," explains Alkiviadis Thomas, CEO of ALTHOM GROUP. "Combining the design and engineering competencies of ALTHOM GROUP and AUTOFLUG creates a European nearshoring cooperation that focuses on synergies between European industrial partners. Other advantages are access to personnel in both countries and the creation and establishment of European know-how. Together with the focus on global markets, we are thus improving the competitive position and can further expand the market shares of the partners," Thomas continues.
On the occasion of the signing of the contract at DEFEA, Martin Kroell, Managing Partner of AUTOFLUG, said: "We look forward to expanding our cooperation and see this as a great opportunity to efficiently bundle our joint competencies. This will make it possible to develop products economically and on-time that will have a major positive impact on the aviation industry. This cooperation enables us to effectively implement current and future projects and puts us in a strong position to compete globally."
After the signing, both managing directors unanimously emphasized that they would focus on the elaboration and development of future products in order to continue to act as an innovation engine for such an important industry.
About AUTOFLUG
THINKING SAFETY – AUTOFLUG is true to this motto. A medium-sized family firm now in the third generation, AUTOFLUG has been a leading provider of products and services since the early days of aviation, specially focusing on rescuing people and ensuring their safety. As a globally recognized supplier and service partner of the international aviation industry and for defense technology, the company with approximately 250 employees develops, produces and services a wide range of textile, mechanical and electronic components and systems, among others. AUTOFLUG, based in Rellingen (Schleswig-Holstein, Germany), has decades of experience and expertise in the areas of rescue and safety, ergonomics, textiles, mechanical systems, precision engineering, electronics, software as well as measurement and control technology.
The AUTOFLUG range of products and services comprises:
Cabin solutions for helicopters, transport aircraft and land vehicles with a key topic of safety seat systems
Fuel measuring and control systems as well as auxiliary fuel tank systems for aircraft and land vehicles
Maintenance and repair of Martin-Baker ejection seats for the
German Air Force
Harnesses and restraint systems for aircraft and land vehicles
Protective equipment for pilots, such as NBC and anti-G suits
Personal survival packs (PSPs)
Rescue parachutes, brake parachutes and recovery parachute systems
Technical / logistical support: Technical logistics, technical documentation, training solutions, obsolescence management
About ALTHOM
ALTHOM GROUP is an innovative and high-performance service provider in the fields of engineering, R&D, technical data & documentation, process, method and tools with presence in Greece and Germany.
ALTHOM covers a wide range of engineering services such as design, development, validation and verification in the aerospace & defense, renewable energy, and plant and mechanical engineering sectors. Its core competencies include structural analysis, thermal and fluid analyses, load reports and contributions to structural optimization and development for minimum material consumption.
ALTHOM is a family-owned business founded in 2010 by Alkiviadis Thomas in Hamburg and has, since 2013, also been present in Greece and in particular in Patras as ALTHOM Engineering E.P.E.